Reading Time:
5
minutes
Hong Kong: a Hub for the Biotech Industry
In the fight against cancer, the biotech industry and research and development (R&D) are vital in discovering cures and treatments. Hong Kong offers the security of a well-established and effective business centre, backed by a reliable rule of law.  Alongside, there is an abundance of resources in the Guangdong-Hong Kong-Macau Greater Bay Area (GBA), presenting considerable prospects and opportunities for businesses looking to set up biotech activities.
Q1: Why set up a biotech base in Hong Kong?
For biotech companies, Hong Kong provides a controlled and safe business environment with access to the GBA for research, testing, manufacturing and support services, including R&D projects with a focus on finding treatments, cures and vaccines for cancer, infectious and other diseases.
Biotech companies setting up in Hong Kong have the security of knowing that their intellectual property is well protected by an ingrained rule of law and the Hong Kong courts. Arrangements have now been put in place for the reciprocal recognition and enforcement of judgments in civil and commercial matters by the courts of Hong Kong and Mainland China. Furthermore, the Hong Kong International Arbitration Centre (HKIAC) is one of Asia's leading arbitration centres and provides an avenue of recourse should contractual business arrangements be breached.
The SARS outbreak in 2003 has increasingly led to a clear biotech focus in Hong Kong, evidenced by the development and establishment of world-class research institutions, which have published hundreds of high-impact biomedical publications. Substantial amounts of investments from the Hong Kong Government in innovation and technology, coupled with Hong Kong's sophisticated healthcare system, has now poised it to thrive as a biotech hub.
Hong Kong has long been a gateway to Mainland China and it is common for international businesses and investors to reach the Mainland China market through Hong Kong. Now, with the access to the Greater Bay Area and the resources within it, Hong Kong has an even greater potential for its biotech industry to boom. Biotech projects can base their companies in Hong Kong, whilst outsourcing manufacturing, research, equipment and more in the GBA.
Q2: What opportunities does the Greater Bay Area present for biotech?
The GBA plans to ease cooperation amount Guangdong, Hong Kong and Macau. Previous regional barriers are being broken down through infrastructure, resource sharing and collaboration. Hong Kong can take part in state technology development programs and has access to key scientific research facilities and equipment in the Guangdong province.
Hong Kong can take advantage of scientific research institutes, high-tech enterprises and large-scale national scientific projects that have important national and even global influence. Whereas the Mainland China market take advantage of Hong Kong's corporate governance system and exposure to the global economy.
Q3: How does a biotech start-up raise funds in Hong Kong?
Hong Kong, of course, is a major financial centre, with a thriving funds industry, providing biotech companies with access to capital and investment. Hong Kong has a simple tax system with low taxes, world class financial and transportation infrastructure, judicial security and access to freely convertible currencies.
Additionally, in recent years, the Hong Kong Government has introduced several policies and invested over HK$100 billion to support innovation and technology. There is a specific focus on biotech R&D through the Innovation and Technology Fund. Many biotech projects have received support from the Hong Kong Government and at the end of April 2020, 587 projects relating to biotech were approved by the fund, totaling HK$1.2 billion.
Public and private investments are, and will continually, help boost the stream of finance into the biotech industry in Hong Kong.
Q4: What can be the long-term advantages of setting up a biotech company in Hong Kong?
Successful companies are well placed in Hong Kong for an IPO. The Stock Exchange of Hong Kong (HKEx) is the world's largest market in terms of market capitalization. Hong Kong listed companies can be directly linked with the Shanghai Stock Exchange, meaning Chinese Mainland investors can purchase eligible shares listed on the HKEx via their own local broker. Hong Kong also offers a secondary listing option, meaning companies can be listed in a different stock exchange, such as NASDAQ, and have a secondary listing in Hong Kong. Public companies can therefore use HKEx to access new capital markets, whilst being subject to the listing rules of the market of primary listing.
Furthermore, in recent years the HKEx has ensured viable pathways for biotech companies to list on the HKEx. In April 2018, the Hong Kong listing regime was reformed to permit the listing of biotech companies that do not fulfil the usual financial eligibility tests set out in the Listing Rules.
Q5: What licence requirements should be considered when setting up a biotech business?
If manufacturing or distributing products in Hong Kong, the Hong Kong government requires certain licences and permits to be acquired before these practices can be carried out. Products considered "pharmaceutical products" under the Pharmacy and Poisons Ordinance (Cap 138) will need to obtain a licence (e.g., Manufacturer Licence/Wholesale Dealer Licence), depending on the activity they are carrying out.
For companies with their headquarters in Hong Kong and research, manufacturing and/or distribution in Mainland China, they will need to ensure that they are complying with all applicable Mainland China license and permit requirements.
Q6: How to ensure that valuable company confidential information is not disclosed?
First and foremost, companies should ensure they have a comprehensive program for protecting trade secrets. Programs should aim to protect proprietary information, technical information, research information and any other information that provides a competitive advantage. Procedures should be developed to ensure that information cannot be extracted from the company easily. Programs should include non-disclosure agreements, limiting physical or electronic access to sensitive information by personnel on a needs only basis, not letting any single employee or third party have access to a full process/formula or other type of sensitive information and asking employees to return confidential information when exiting the company.
For employee contracts, a well-drafted express duty of confidentiality clause should be incorporated. This clause will set out their obligations during and after employment. To ensure enforceability, a comprehensive definition of "confidential information" should be stated; employee creations or accessible information should be covered; information already available to the public should be excluded; and it should be stated that remedies, such as injunctions and/ or damages, may be sought for any breaches of the confidentiality clause.
A controlled and properly managed program for protecting trade secrets, alongside a well drafted confidentiality clause in employment contracts, will help protect against employees taking advantage of company information at the expense of the company (e.g., selling it to rival companies). You can check our podcast "Employment: Team Moves" for more information.
Q7: What happens if an employee breaches a confidentiality clause during or after employment?
An employee will be subject to summary dismissal, so should be reminded of their obligations and hopefully the issue can be resolved. Injunctions and/or damages may be sought from the employee if further action is necessary.
If an ex-employee breaches a post termination confidentiality clause, a formal letter reminding them of their obligations and making their new employer aware of such obligations can be an effective and amicable way to solve the situation. However, if this avenue does not work, then the former employee can be taken to court for injunction and/or damages to be obtained.
If information has been provided to a third party, it is possible to get an injunction on that third party, on the basis that they have procured the employee to breach their contractual obligation.
For the second year in a row Hugill & Ip has joined UICC's World Cancer Day #IAmAndIWill campaign in support of Asian Fund for Cancer Research (AFCR). The firm is helping encourage individual and corporate investment and donations by promoting cancer awareness, prevention and research.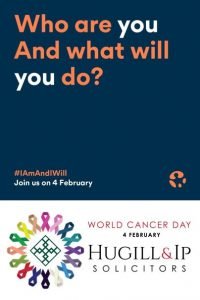 For information purposes only. Its contents do not constitute legal advice and readers should not regard this as a substitute for detailed advice in individual instances.