Reading Time:
2
minutes
This year the firm celebrates the International Day for the Elimination of Racial Discrimination by joining the Equal Opportunities Commission's  Racial Diversity & Inclusion Charter for Employers.
"Youth standing up against racism" is the 2021 theme. It engages the public through #FightRacism, which aims to foster a global culture of tolerance, equality and anti-discrimination and calls on each and every one of us to stand up against racial prejudice and intolerant attitudes.
The International Day for the Elimination of Racial Discrimination is observed annually on the day the police in Sharpeville, South Africa, opened fire and killed 69 people at a peaceful demonstration against apartheid "pass laws" in 1960. Since then, the apartheid system in South Africa has been dismantled. Racist laws and practices have been abolished in many countries, and we have built an international framework for fighting racism, guided by the International Convention on the Elimination of Racial Discrimination. The Convention is now nearing universal ratification, yet still, in all regions, too many individuals, communities and societies suffer from the injustice and stigma that racism brings.
The Equal Opportunities Commission is responsible for implementing the four anti-discrimination ordinances in Hong Kong, namely the Sex Discrimination Ordinance, Disability Discrimination
Ordinance, Family Status Discrimination Ordinance and Race Discrimination Ordinance. The Commission is also tasked with promoting equal opportunities for all regardless of gender, disability, race or family status in various aspects of public life, including employment, education, housing, services, etc. A key strategic priority of the Commission is to ensure equal opportunities in employment for the racial minorities. Launched by the EOC in August 2018, the Racial Diversity & Inclusion Charter For Employers suggests best practices for businesses determined to create a racially diverse and inclusive workplace. More than 150 organisations have come on board to date – Hugill & Ip is proud to be one of these organisations.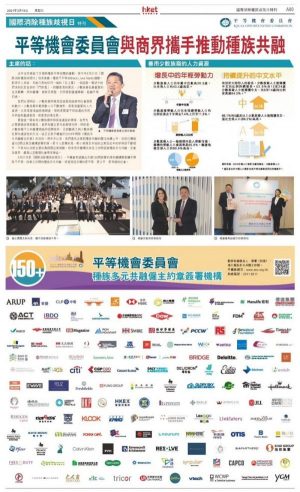 ---
You can access the Employer Charter on the Equal Opportunities Commission website
If you wish to know more about Hugill & Ip's Diversity & Inclusion commitment, you can check the About section of the website